The Deal You're Buying from a CoupRecoup seller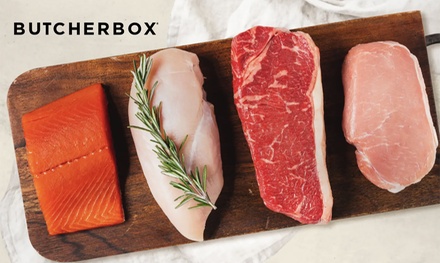 Click here to see full details.
Expires Nov 30, 2023
Notes from seller:
lassic Custom ButcherBox:
Create your own Classic Custom ButcherBox by choosing from more than 25 high-quality cuts.
❥ 9-14 lbs of high-quality meat
❥ 100% grass-fed beef, free-range organic chicken, pork raised crate-free, and wild-caught seafood options
❥ Always humanely raised. No antibiotics ever
❥ Update your cuts in every order
❥ Free shipping, cancel anytime
❥ New users get 2 packs of Bacon in every box for a year FREE; valid until 8/13/2023
❥ Includes recipes as well as tips and tricks for cooking meat
Please write me an email for questing this redemption (ilo
[email protected]
). I will give you the redemption as soon as
possible within 12 hours via e-mail to you.
Thank you!
Fill out this form to contact the seller directly
(Have questions? See our Buying FAQ to the left.)